The Other Side of the Tray Luke 1:39-45 (46-55)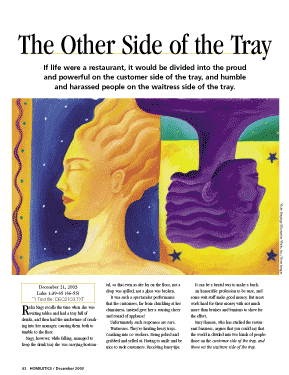 If life were a restaurant, it would be divided into the proud and powerful on the customer side of the tray, and humble and harassed people on the waitress side of the tray.
Reka Nagy recalls the time when she was waiting tables and had a tray full of drinks, and then had the misfortune of crashing into her manager, causing them both to tumble to the floor.

Nagy, however, while falling, managed to keep the drink tray she was carrying horizontal, so that even as she lay on the floor, not a drop was spilled, not a glass was broken.

It was such a spectacular performance that the customers, far from chuckling at her clumsiness, instead gave her a rousing cheer and round of applause!

Unfortunately, such responses are rare.

Waitresses. They're hauling heavy trays. Crashing into co-workers. Being poked and grabbed and yelled at. Having to smile and be nice to rude customers. Receiving lousy tips.

It can be a brutal way to make a buck.

An honorable profession to be sure, and some wait staff make good money. But most work hard for their money with not much more than bruises and bunions to show for the effort.

Suzy Hansen, who has studied the restaurant business, argues ...
Start your risk free trial to view the entire installment!
START YOUR RISK-FREE TRIAL
---