Here I Stand Mark 10:46-52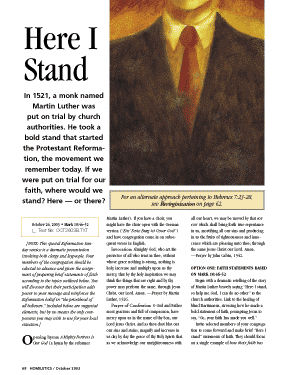 In 1521, a monk named Martin Luther was put on trial by church authorities. He took a bold stand that started the Protestant Reformation, the movement we remember today. If we were put on trial for our faith, where would we stand? Here — or there?

For an alternate approach pertaining to Hebrews 7:23-28, see Revirginization.
[NOTE: This special Reformation Sunday service is a dramatic presentation involving both clergy and laypeople. Four members of the congregation should be selected in advance and given the assignment of preparing brief statements of faith according to the topics outlined below. You will discover that their participation adds power to your message and reinforces the Reformation belief in "the priesthood of all believers." Included below are suggested elements, but by no means the only components you may wish to use for your local situation.]

Opening hymn: A Mighty Fortress Is Our God (a hymn by the reformer Martin Luther). If you have a choir, you might have the choir open with the German version ("Ein' Feste Burg ist Unser Gott") and have congregation come in on subsequent verses in English.

Invocation: Almighty God, who art the protector of all who trust in thee, without whose grace nothing is strong, nothing is holy, increase and multiply upon us thy mercy, that by thy holy inspiration ...
Start your risk free trial to view the entire installment!
START YOUR RISK-FREE TRIAL
---