Picabo's Problem James 3:1-12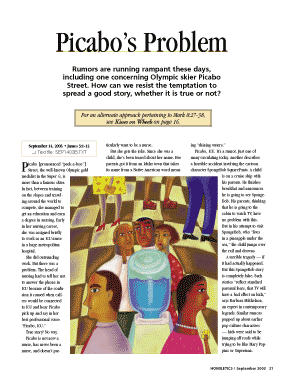 Rumors are running rampant these days, including one concerning Olympic skier Picabo Street. How can we resist the temptation to spread a good story, whether it is true or not?

For an alternate approach pertaining to Mark 8:27-38, see Kisses on Wheels.

Picabo [pronounced "peek-a-boo"] Street, the well-known Olympic gold medalist in the Super G, is more than a famous skier. In fact, between training on the slopes and traveling around the world to compete, she managed to get an education and earn a degree in nursing. Early in her nursing career, she was assigned briefly to work as an ICU nurse in a large metropolitan hospital.

She did outstanding work. But there was a problem. The head of nursing had to tell her not to answer the phone in ICU because of the confusion it caused when callers would be connected to ICU and hear Picabo pick up and say in her best professional voice: "Picabo, ICU."

True story? No way.

Picabo is not now a nurse, has never been a nurse, and doesn't particularly want to be a nurse.

But she gets the joke. Since she was a child, she's been teased about her name. Her parents got it from an Idaho town that takes its name from a Native American word meaning "shining waters."

Picabo, ICU. It's a rumor. Just one of many ...
Start your risk free trial to view the entire installment!
START YOUR RISK-FREE TRIAL
---