The Trinity Tornado Ephesians 3:14-21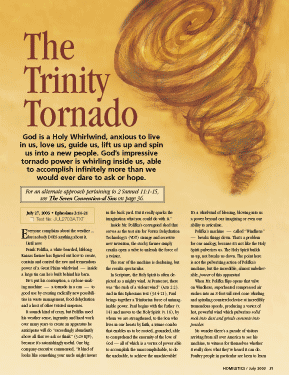 God is a Holy Whirlwind, anxious to live in us, love us, guide us, lift us up and spin us into a new people. God's impressive tornado power is whirling inside us, able to accomplish infinitely more than we would ever dare to ask or hope.

For an alternate approach pertaining to 2 Samuel 11:1-15, see The Seven Convention-al Sins on page 36.
Everyone complains about the weather ... but nobody DOES anything about it.

Until now.

Frank Polifka, a white-bearded, lifelong Kansas farmer has figured out how to create, contain and control the raw and tremendous power of a Great Plains whirlwind — inside a large tin can he's built behind his barn.

He's put his contraption, a cyclone-making machine — a tornado in a can — to good use by creating radically new possibilities in waste management, food dehydration and a host of other twisted surprises.

It sounds kind of crazy, but Polifka used his weather sense, ingenuity and hard work over many years to create an apparatus he anticipates will do "exceedingly abundantly above all that we ask or think" (3:20 KJV), because it's astonishingly useful. One big company executive commented, "It kind of looks like something your uncle might invent in the back yard. But it really sparks the imagination what you could do with it."

Inside Mr. Polifka's corrugated shed that serves as the test site ...
Start your risk free trial to view the entire installment!
START YOUR RISK-FREE TRIAL
---