The Seven Convention-al Sins 2 Samuel 11:1-15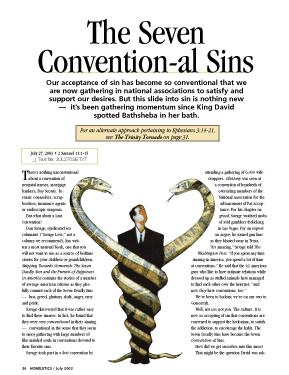 Our acceptance of sin has become so conventional that we are now gathering in national associations to satisfy and support our desires. But this slide into sin is nothing new — it's been gathering momentum since King David spotted Bathsheba in her bath.

For an alternate approach pertaining to Ephesians 3:14-21, see The Trinity Tornado.
There's nothing unconventional about a convention of neonatal nurses, mortgage bankers, Boy Scouts, forensic counselors, scrapbookers, insurance agents or endoscopic surgeons.

But what about a Lust Convention?

Dan Savage, syndicated sex columnist ("Savage Love," not a column we recommend), has written a most unusual book, one that you will not want to use as a source of bedtime stories for your children or grandchildren. Skipping Towards Gomorrah: The Seven Deadly Sins and the Pursuit of Happiness in America contains the stories of a number of average American citizens as they gleefully commit each of the Seven Deadly Sins — lust, greed, gluttony, sloth, anger, envy and pride.

Savage discovered that it was rather easy to find these sinners. In fact, he found that they were very conventional in their sinning — conventional in the sense that they seem to enjoy gathering with large numbers of like-minded souls in conventions devoted to their favorite sins.

Savage took part in a lust...
Start your risk free trial to view the entire installment!
START YOUR RISK-FREE TRIAL
---