Sand Sculptors Ephesians 5:15-20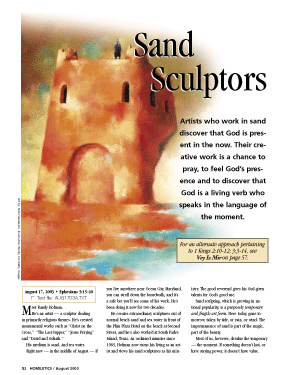 Artists who work in sand discover that God is present in the now. Their creative work is a chance to pray, to feel God's presence and to discover that God is a living verb who speaks in the language of the moment.

For an alternate approach pertaining to 1 Kings 2:10-12; 3:3-14, see Vey Iz Mir.
Meet Randy Hofman.

He's an artist — a sculptor dealing in primarily religious themes. He's created monumental works such as "Christ on the Cross," "The Last Supper," "Jesus Praying" and "David and Goliath."

His medium is sand. And sea water.

Right now — in the middle of August — if you live anywhere near Ocean City, Maryland, you can stroll down the boardwalk, and it's a safe bet you'll see some of his work. He's been doing it now for two decades.

He creates extraordinary sculptures out of normal beach sand and sea water in front of the Plim Plaza Hotel on the beach at Second Street, and he's also worked at South Padre Island, Texas. An ordained minister since 1985, Hofman now earns his living as an artist and views his sand sculptures as his ministry. The good reverend gives his God-given talents for God's good use.

Sand sculpting, which is growing in national popularity, is a purposely temporary and fragile art form. Here today, gone tomorrow, taken by tide, or rain, or wind. The...
Start your risk free trial to view the entire installment!
START YOUR RISK-FREE TRIAL
---