The Dirt on David 1 Samuel 17:(1a, 4-11, 19-23), 32-49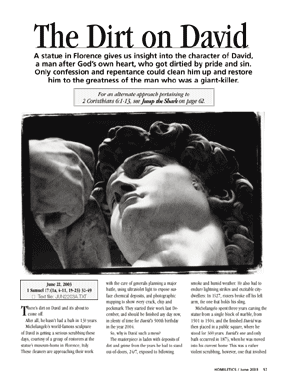 For an alternate approach pertaining to 2 Corinthians 6:1-13, see Jump the Shark on page 62.

A statue in Florence gives us insight into the character of David, a man after God's own heart, who got dirtied by pride and sin. Only confession and repentance could clean him up and restore him to the greatness of the man who was a giant-killer.

There's dirt on David and it's about to come off.

After all, he hasn't had a bath in 130 years.

Michelangelo's world-famous sculpture of David is getting a serious scrubbing these days, courtesy of a group of restorers at the statue's museum-home in Florence, Italy. These cleaners are approaching their work with the care of generals planning a major battle, using ultraviolet light to expose surface chemical deposits, and photographic mapping to show every crack, chip and pockmark. They started their work last December, and should be finished any day now, in plenty of time for David's 500th birthday in the year 2004.

So, why is David such a mess?

The masterpiece is laden with deposits of dirt and grime from the years he had to stand out-of-doors, 24/7, exposed to billowing smoke and humid weather. He also had to endure lightning strikes and excitable city-dwellers: In 1527, rioters broke off his left arm, the one that holds his sling.

Michelangelo spent three years carving the statue...
Start your risk free trial to view the entire installment!
START YOUR RISK-FREE TRIAL
---