Friendly Fire Acts 2:1-21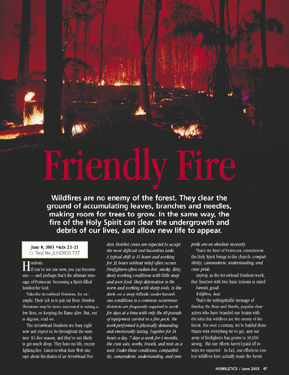 Wildfires are no enemy of the forest. They clear the ground of accumulating leaves, branches and needles, making room for trees to grow. In the same way, the fire of the Holy Spirit can clear the undergrowth and debris of our lives, and allow new life to appear.
Hotshots.

If you're not one now, you can become one — and perhaps that's the ultimate message of Pentecost: becoming a Spirit-filled hotshot for God.

Take the Arrowhead Hotshots, for example. Their job is to put out fires. Hotshot Christians may be more interested in setting a few fires, or keeping the flame alive. But, not to digress, read on.

The Arrowhead Hotshots are busy right now and expect to be throughout the summer. It's fire season, and they're not likely to get much sleep. They have no life, except fighting fire. Listen to what their Web site says about the duties of an Arrowhead Hotshot: Hotshot crews are expected to accept the most difficult and hazardous tasks. A typical shift is 16 hours and working for 32 hours without relief often occurs. Firefighters often endure hot, smoky, dirty, dusty working conditions with little sleep and poor food. Sleep deprivation is the norm and working with sharp tools, in the dark, on a steep hillside, under hazardous conditions is a common...
Start your risk free trial to view the entire installment!
START YOUR RISK-FREE TRIAL
---