No Way Jesus Acts 1:1-11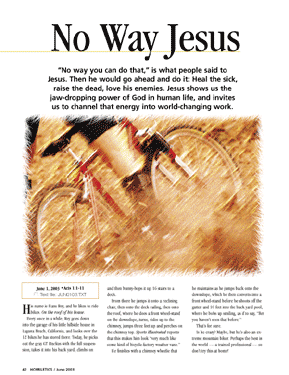 "No way you can do that," is what people said to Jesus. Then he would go ahead and do it: Heal the sick, raise the dead, love his enemies. Jesus shows us the jaw-dropping power of God in human life, and invites us to channel that energy into world-changing work.
His name is Hans Rey, and he likes to ride bikes. On the roof of his house.

Every once in a while, Rey goes down into the garage of his little hillside house in Laguna Beach, California, and looks over the 12 bikes he has stored there. Today, he picks out the gray GT Ruckus with the full suspension, takes it into his back yard, climbs on and then bunny-hops it up 16 stairs to a deck.

From there he jumps it onto a reclining chair, then onto the deck railing, then onto the roof, where he does a front wheel-stand on the downslope, turns, rides up to the chimney, jumps three feet up and perches on the chimney top. Sports Illustrated reports that this makes him look "very much like some kind of bicycle-factory weather vane."

He finishes with a chimney wheelie that he maintains as he jumps back onto the downslope, which he then converts into a front wheel-stand before he shoots off the gutter and 10 feet into the back yard pool, where he bobs up smiling, as if to say, "Bet you haven't seen...
Start your risk free trial to view the entire installment!
START YOUR RISK-FREE TRIAL
---