Neo Jesus Acts 8:26-40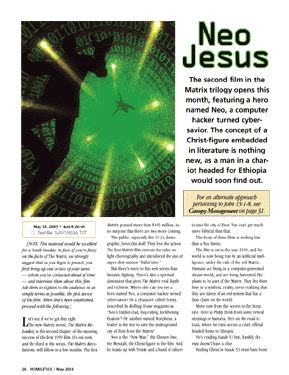 For an alternate approach pertaining to John 15:1-8, see Canopy Management.

The second film in the Matrix trilogy opens this month, featuring a hero named Neo, a computer hacker turned cyber-savior. The concept of a Christ-figure embedded in literature is nothing new, as a man in a chariot headed for Ethiopia would soon find out.

[NOTE: This material would be excellent for a Youth Sunday. In fact, if you're fuzzy on the facts of The Matrix, we strongly suggest that as you begin to preach, you first bring up one or two of your teens — whom you've contacted ahead of time — and interview them about this film. Ask them to explain to the audience in as simple terms as possible, the plot device of the film. When that's been established, proceed with the following.]

Let's see if we've got this right.

The new Matrix movie, The Matrix Reloaded, is the second chapter of the stunning success of the first 1999 film. It's out now, and the third in the series, The Matrix Revolutions, will follow in a few months. The first Matrix grossed more than $450 million, so no surprise that there are two more coming.

The public, especially the 12-34 demographic, loves this stuff. They love the action. The first Matrix film rewrote the rules on fight choreography and introduced the use of super-slow-motion "bullet time."

But there's more...
Start your risk free trial to view the entire installment!
START YOUR RISK-FREE TRIAL
---