Your Family: How It Works Luke 2:41-52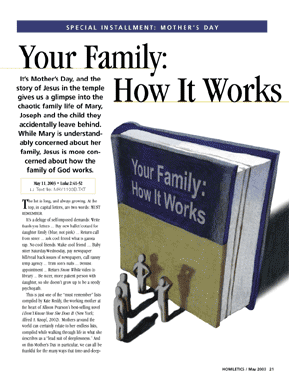 It's Mother's Day, and the story of Jesus in the temple gives us a glimpse into the chaotic family life of Mary, Joseph and the child they accidentally leave behind. While Mary is understandably concerned about her family, Jesus is more concerned about how the family of God works.
The list is long, and always growing. At the top, in capital letters, are two words: MUST REMEMBER.

It's a deluge of self-imposed demands: Write thank-you letters ... Buy new ballet leotard for daughter Emily (blue, not pink) ... Return call from sister ... Ask cool friend what is gansta rap. No cool friends. Make cool friend .... Baby sitter Saturday/Wednesday, pay newspaper bill/read back issues of newspapers, call nanny temp agency ... Trim son's nails ... Dentist appointment ... Return Snow White video to library ... Be nicer, more patient person with daughter, so she doesn't grow up to be a needy psychopath.

This is just one of the "must remember" lists compiled by Kate Reddy, the working mother at the heart of Allison Pearson's best-selling novel I Don't Know How She Does It (New York: Alfred A. Knopf, 2002). Mothers around the world can certainly relate to her endless lists, compiled while walking through life in what she describes as a "lead suit of sleeplessness." And on this...
Start your risk free trial to view the entire installment!
START YOUR RISK-FREE TRIAL
---