Jesus on Ice John 20:1-18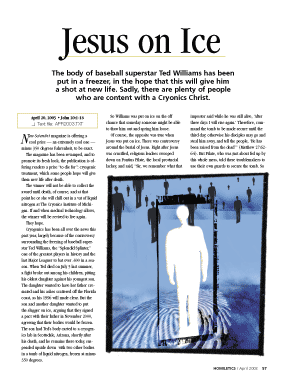 The body of baseball superstar Ted Williams has been put in a freezer, in the hope that this will give him a shot at new life. Sadly, there are plenty of people who are content with a Cryonics Christ.
New Scientist magazine is offering a cool prize — an extremely cool one — minus 350 degrees Fahrenheit, to be exact.

The magazine has been revamped, and to promote its fresh look, the publication is offering readers a prize "to die for": cryogenic treatment, which some people hope will give them new life after death.

The winner will not be able to collect the award until death, of course, and at that point he or she will chill out in a vat of liquid nitrogen at The Cryonics Institute of Michigan. If and when medical technology allows, the winner will be revived to live again.

They hope.

Cryogenics has been all over the news this past year, largely because of the controversy surrounding the freezing of baseball superstar Ted Williams, the "Splendid Splinter," one of the greatest players in history and the last Major Leaguer to bat over .400 in a season. When Ted died on July 5 last summer, a fight broke out among his children, pitting his oldest daughter against his youngest son. The...
Start your risk free trial to view the entire installment!
START YOUR RISK-FREE TRIAL
---