Ignoring the FAQs John 1:1-9, 10-18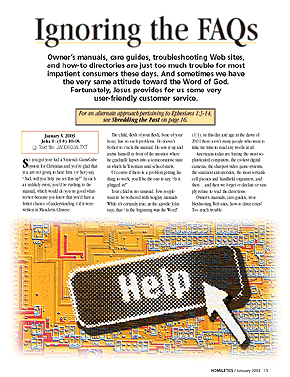 Owner's manuals, care guides, troubleshooting Web sites, and how-to directories are just too much trouble for most impatient consumers these days. And sometimes we have the very same attitude toward the Word of God. Fortunately, Jesus provides for us some very user-friendly customer service. For an alternate approach pertaining to Ephesians 1:3-14, see Shredding the Past.
So you got your kid a Nintendo GameCube system for Christmas and you're glad that you are not going to hear him (or her) say, "Dad, will you help me set this up?" In such an unlikely event, you'd be rushing to the manual, which would do you no good whatsoever because you know that you'd have a better chance of understanding it if it were written in Mandarin Chinese.

The child, flesh of your flesh, bone of your bone, has no such problems. He doesn't bother to crack the manual. He sets it up and parks himself in front of the monitor where he gradually lapses into a semicomatose state in which he'll remain until school starts.

Of course if there is a problem getting the thing to work, you'll be the one to say, "Is it plugged in?"

Your child is not unusual. Few people want to be bothered with weighty manuals. While it's certainly true, as the apostle John says, that "In the beginning was the Word" (1:1), in this day and age at the dawn of 2003 there aren't many people who want to take the ...
Start your risk free trial to view the entire installment!
START YOUR RISK-FREE TRIAL
---