Coram Deo Revelation 7:9-17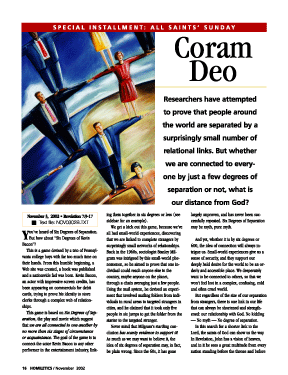 Researchers have attempted to prove that people around the world are separated by a surprisingly small number of relational links. But whether we are connected to everyone by just a few degrees of separation or not, what is our distance from God?

You've heard of Six Degrees of Separation.

But how about "Six Degrees of Kevin Bacon"?

This is a game devised by a trio of Pennsylvania college boys with far too much time on their hands. From this humble beginning, a Web site was created, a book was published and a nationwide fad was born. Kevin Bacon, an actor with impressive screen credits, has been appearing on commercials for debit cards, trying to prove his identity to store clerks through a complex web of relationships.

This game is based on Six Degrees of Separation, the play and movie which suggest that we are all connected to one another by no more than six stages of circumstance or acquaintance. The goal of the game is to connect the actor Kevin Bacon to any other performer in the entertainment industry, linking them together in six degrees or less (see sidebar for an example).

We get a kick out this game, because we've all had small-world experiences, discovering that we are linked to complete strangers by surprisingly small...
Start your risk free trial to view the entire installment!
START YOUR RISK-FREE TRIAL
---