Faith Compression 1 Thessalonians 1:1-10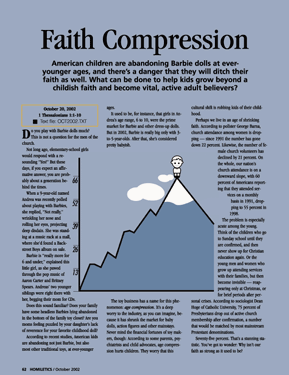 American children are abandoning Barbie dolls at ever-younger ages, and there's a danger that they will ditch their faith as well. What can be done to help kids grow beyond a childish faith and become vital, active adult believers?

Do you play with Barbie dolls much?

This is not a question for the men of the church.

Not long ago, elementary-school girls would respond with a resounding "Yes!" But these days, if you expect an affirmative answer, you are probably about a generation behind the times.
When a 9-year-old named Andrea was recently polled about playing with Barbies, she replied, "Not really," wrinkling her nose and rolling her eyes, projecting deep disdain. She was standing at a music rack at a mall, where she'd found a Backstreet Boys album on sale.

Barbie is "really more for 6 and under," explained this little girl, as she pawed through the pop music of Aaron Carter and Britney Spears. Andreas' two younger siblings were right there with her, begging their mom for CDs.

Does this sound familiar? Does your family have some headless Barbies lying abandoned in the bottom of the family toy closet? Are you moms feeling puzzled by your daughter's lack of reverence for your favorite childhood doll?

According to...
Start your risk free trial to view the entire installment!
START YOUR RISK-FREE TRIAL
---