The Daffodil Principle Philippians 2:1-13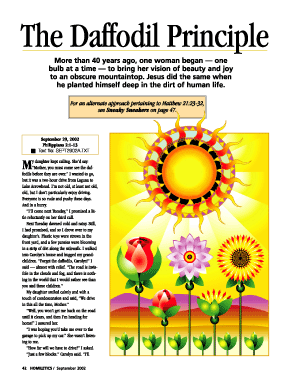 More than 40 years ago, one woman began - one bulb at a time - to bring her vision of beauty and joy to an obscure mountaintop. Jesus did the same when he planted himself deep in the dirt of human life.

[For an alternate approach pertaining to Matthew 21:23-32, see Sneaky Sneakers.]

My daughter kept calling. She'd say: "Mother, you must come see the daffodils before they are over." I wanted to go, but it was a two-hour drive from Laguna to Lake Arrowhead. I'm not old, at least not old, old, but I don't particularly enjoy driving. Everyone is so rude and pushy these days. And in a hurry.

"I'll come next Tuesday," I promised a little reluctantly on her third call.

Next Tuesday dawned cold and rainy. Still, I had promised, and so I drove over to my daughter's. Plastic toys were strewn in the front yard, and a few pansies were blooming in a strip of dirt along the sidewalk. I walked into Carolyn's house and hugged my grandchildren. "Forget the daffodils, Carolyn!" I said - almost with relief. "The road is invisible in the clouds and fog, and there is nothing in the world that I would rather see than you and these children."

My daughter smiled calmly and with a touch of condescension and...
Start your risk free trial to view the entire installment!
START YOUR RISK-FREE TRIAL
---