Kinko Church Matthew 20:1-16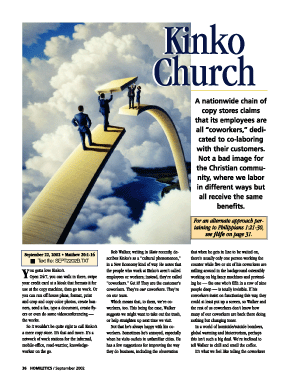 A nationwide chain of copy stores claims that its employees are all "coworkers," dedicated to co-laboring with their customers. Not a bad image for the Christian community, where we labor in different ways but all receive the same benefits.

[For an alternate approach pertaining to Philippians 1:21-30, see jlife.]

You gotta love Kinko's.

Open 24/7, you can walk in there, swipe your credit card at a kiosk that formats it for use at the copy machine, then go to work. Or you can run off house plans, format, print and crop and copy color photos, create banners, send a fax, type a document, create flyers or even do some videoconferencing - the works.

So it wouldn't be quite right to call Kinko's a mere copy store. It's that and more. It's a network of work stations for the informal, mobile-office, road-warrior, knowledge-worker on the go.

Rob Walker, writing in Slate recently, describes Kinko's as a "cultural phenomenon," in a New Economy kind of way. He notes that the people who work at Kinko's aren't called employees or workers; instead, they're called "coworkers." Get it? They are the customer's coworkers. They're our coworkers. They're on our team.

Which means that, to them, we're co-workers, too. This being the case, Walker...
Start your risk free trial to view the entire installment!
START YOUR RISK-FREE TRIAL
---