Love in Seven Minutes Romans 13:8-14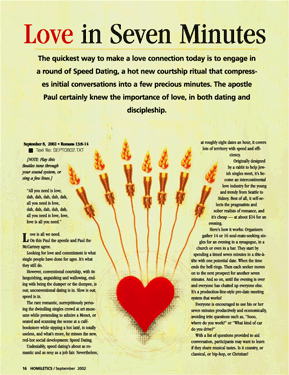 The quickest way to make a love connection today is to engage in a round of Speed Dating, a hot new courtship ritual that compresses initial conversations into a few precious minutes. The apostle Paul certainly knew the importance of love, in both dating and discipleship.

[NOTE: Play this Beatles tune through your sound system, or sing a few lines.]

"All you need is love,
dah, dah, dah, dah, dah,
all you need is love,
dah, dah, dah, dah, dah,
all you need is love, love,
love is all you need."

Love is all we need.

On this Paul the apostle and Paul the McCartney agree.

Looking for love and commitment is what single people have done for ages. It's what they still do.

However, conventional courtship, with its languishing, anguishing and wallowing, ending with being the dumper or the dumpee, is out; unconventional dating is in. Slow is out; speed is in.

The rare romantic, surreptitiously perusing the dwindling singles crowd at art museums while pretending to admire a Monet, or seated and scanning the scene at a cafŽ-bookstore while sipping a hot lattŽ, is totally useless, and what's more, he misses the new, red-hot social development: Speed Dating.

Undeniably, speed dating's about as romantic and as sexy as a job fair. Nevertheless, at roughly eight dates an hour, it...
Start your risk free trial to view the entire installment!
START YOUR RISK-FREE TRIAL
---