Defensive Pessimism Genesis 37:1-4, 12-28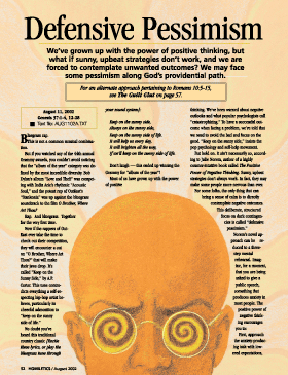 We've grown up with the power of positive thinking, but what if sunny, upbeat strategies don't work, and we are forced to contemplate unwanted outcomes? We may face some pessimism along God's providential path.
Bluegrass rap.

This is not a common musical combination.

But if you watched any of the 44th annual Grammy awards, you couldn't avoid noticing that the "album of the year" category was defined by the most incredible diversity. Bob Dylan's album "Love and Theft" was competing with India Arie's rhythmic "Acoustic Soul," and the potent rap of OutKast's "Stankonia" was up against the bluegrass soundtrack to the film O Brother, Where Art Thou?

Rap. And bluegrass. Together for the very first time.

Now if the rappers of OutKast ever take the time to check out their competition, they will encounter a cut on "O Brother, Where Art Thou?" that will make their jaws drop. It's called "Keep on the Sunny Side," by A.P. Carter. This tune contradicts everything a self-respecting hip-hop artist believes, particularly its cheerful admonition to "keep on the sunny side of life."

No doubt you've heard this traditional country classic [Recite these lyrics, or play the bluegrass tune through your sound...
Start your risk free trial to view the entire installment!
START YOUR RISK-FREE TRIAL
---