Pain at Peniel Genesis 32:22-31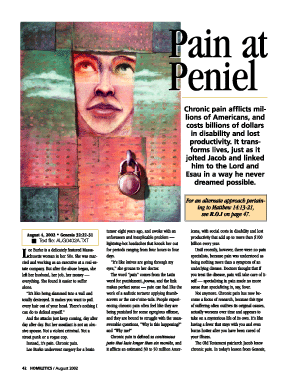 Chronic pain afflicts millions of Americans, and costs billions of dollars in disability and lost productivity. It transforms lives, just as it jolted Jacob and linked him to the Lord and Esau in a way he never dreamed possible.

Lee Burke is a delicately featured Massachusetts woman in her 50s. She was married and working as an executive at a real-estate company. But after the abuse began, she left her husband, her job, her money --everything. She found it easier to suffer alone.

"It's like being slammed into a wall and totally destroyed. It makes you want to pull every hair out of your head. There's nothing I can do to defend myself."

And the attacks just keep coming, day after day after day. But her assailant is not an abusive spouse. Not a violent criminal. Not a street punk or a rogue cop.

Instead, it's pain. Chronic pain.

Lee Burke underwent surgery for a brain tumor eight years ago, and awoke with an unforeseen and inexplicable problem -- lightning-hot headaches that knock her out for periods ranging from four hours to four days.

"It's like knives are going through my eyes," she groans to her doctor.

The word "pain" comes from the Latin word for punishment, poena, and the link makes perfect sense -- pain can ...
Start your risk free trial to view the entire installment!
START YOUR RISK-FREE TRIAL
---