Gizmos for the Journey Romans 8:1-11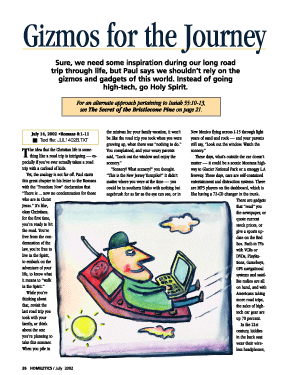 Sure, we need some inspiration during our long road trip through life, but Paul says we shouldn't rely on the gizmos and gadgets of this world. Instead of going high-tech, go Holy Spirit.

The idea that the Christian life is something like a road trip is intriguing -- especially if you've ever actually taken a road trip with a carload of kids.

Yet, the analogy is not far off. Paul starts this great chapter in his letter to the Romans with the "Freedom Now" declaration that "There is ... now no condemnation for those who are in Christ Jesus." It's like, okay Christians, for the first time, you're ready to hit the road. You're free from the condemnation of the law, you're free to live in the Spirit, to embark on the adventure of your life, to know what it means to "walk in the Spirit."

While you're thinking about that, revisit the last road trip you took with your family, or think about the one you're planning to take this summer. When you pile in the minivan for your family vacation, it won't be like the road trip you took when you were growing up, when there was "nothing to do." You complained, and your weary parents said, "Look out the window and enjoy the scenery."...
Start your risk free trial to view the entire installment!
START YOUR RISK-FREE TRIAL
---