Against Type Genesis 22:1-14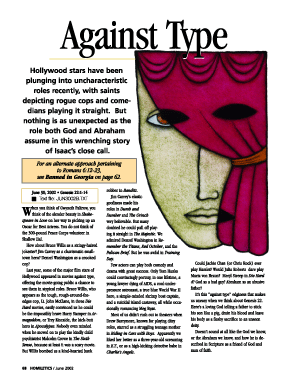 Hollywood stars have been plunging into uncharacteristic roles recently, with saints depicting rogue cops and comedians playing it straight. But nothing is as unexpected as the role both God and Abraham assume in this wrenching story of Isaac's close call.


When you think of Gwyneth Paltrow, you think of the slender beauty in Shakespeare in Love on her way to picking up an Oscar for Best Actress. You do not think of the 300-pound Peace Corps volunteer in Shallow Hal.

How about Bruce Willis as a stringy-haired jokester? Jim Carrey as a charismatic small-town hero? Denzel Washington as a crooked cop?

Last year, some of the major film stars of Hollywood appeared in movies against type, offering the movie-going public a chance to see them in atypical roles. Bruce Willis, who appears as the tough, rough-around-the-edges cop, Lt. John McClane, in three Die Hard movies, easily convinced us he could be the impossibly brave Harry Stamper in Armageddon, or Trey Kincaide, the kick-butt hero in Apocalypse. Nobody even minded when he moved on to play the kindly child psychiatrist Malcolm Crowe in The Sixth Sense, because at least it was a scary movie. But Willis bombed as a kind-hearted bank robber in Bandits.

Jim Carrey's elastic goofiness made his...
Start your risk free trial to view the entire installment!
START YOUR RISK-FREE TRIAL
---