What We Can Learn from Dogs John 14:15-21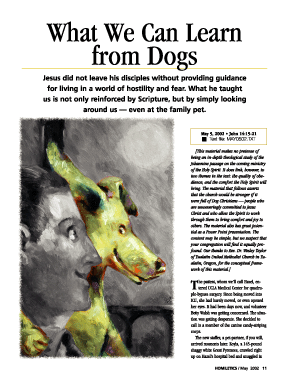 Jesus did not leave his disciples without providing guidance for living in a world of hostility and fear. What he taught us is not only reinforced by Scripture, but by simply looking around us - even at the family pet.
[This material makes no pretense of being an in-depth theological study of the Johannine passage on the coming ministry of the Holy Spirit. It does link, however, to two themes in the text: the quality of obedience, and the comfort the Holy Spirit will bring. The material that follows asserts that the church would be stronger if it were full of Dog Christians - people who are unwaveringly committed to Jesus Christ and who allow the Spirit to work through them to bring comfort and joy to others. The material also has great potential as a Power Point presentation. The content may be simple, but we suspect that your congregation will find it equally profound. Our thanks to Rev. Dr. Wesley Taylor of Tualatin United Methodist Church in Tualatin, Oregon, for the conceptual framework of this material.]

The patient, whom we'll call Hazel, entered UCLA Medical Center for quadruple-bypass surgery. Since being moved into ICU, she had barely moved, or even opened her eyes. It had been days now,...
Start your risk free trial to view the entire installment!
START YOUR RISK-FREE TRIAL
---