World Changers Acts 7:55-60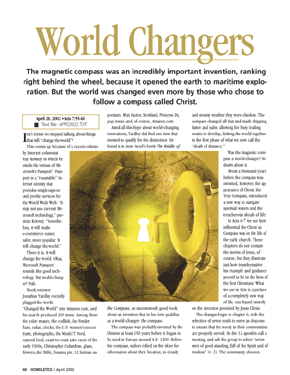 The magnetic compass was an incredibly important invention, ranking right behind the wheel, because it opened the earth to maritime exploration. But the world was changed even more by those who chose to follow a compass called Christ.

Isn't it time we stopped talking about things that will "change the world"?

This comes up because of a recent column by Internet columnist Guy Kewney in which he extols the virtues of Microsoft's Passport" Passport is a "roamable" Internet identity that provides single sign-in and profile services for the World Wide Web. "It may not use current Microsoft technology," predicts Kewney. "Nonetheless, it will make e-commerce easier, safer, more popular. It will change the world."

There it is. It will change the world. Okay, Microsoft Passport sounds like good technology. But world-changer? Nah.

Book reviewer Jonathan Yardley recently plugged the words "Changed the World" into Amazon.com, and his search produced 309 items. Among them: the color mauve, the codfish, the Fender bass, radar, clocks, the U.S. women's soccer team, photographs, the Model T Ford, canned food, coast-to-coast auto races of the early 1900s, Christopher Columbus, glass, flowers, the Bible, banana pie, 12 lesbian...
Start your risk free trial to view the entire installment!
START YOUR RISK-FREE TRIAL
---