The Cross Stem 1 Corinthians 1:18-31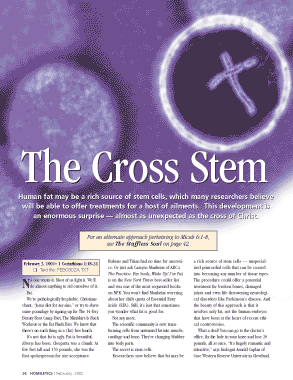 Human fat may be a rich source of stem cells, which many researchers believe will be able to offer treatments for a host of ailments. This development is an enormous surprise - almost as unexpected as the cross of Christ.


No one wants it. Most of us fight it. We'll do almost anything to rid ourselves of it.

Fat.

We're pathologically fat phobic. Christians chant, "Jesus diet for my sins," or try to shave some poundage by signing up for The 14-Day Beauty Boot Camp Diet, The Miniskirt-Is-Back Workout or the Fat Flush Diet. We know that there's no such thing as a (fat) free lunch.

It's not that fat is ugly. Fat is beautiful. Always has been. Cleopatra was a chunk: At five feet tall and 150 pounds, she was the first spokesperson for size acceptance. Rubens and Titian had no time for anorexics. Or just ask Camyrn Manheim of ABC's The Practice. Her book, Wake Up! I'm Fat, is on the New York Times best-seller list and was one of the most requested books on NPR. You won't find Manheim worrying about her daily quota of Essential Fatty Acids (EFA). Still, it's just that sometimes you wonder what fat is good for.

Not any more.

The scientific community is now transforming cells from unwanted fat into muscle, cartilage...
Start your risk free trial to view the entire installment!
START YOUR RISK-FREE TRIAL
---