Opryland Discipleship John 1:29-42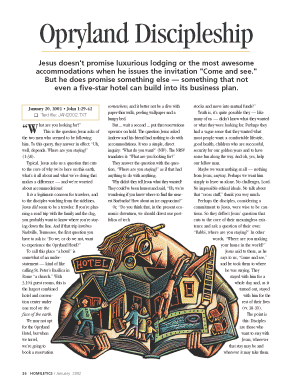 Jesus doesn't promise luxurious lodging or the most awesome accommodations when he issues the invitation "Come and see." But he does promise something else - something that not
even a five-star hotel can build into its business plan.

"What are you looking for?"

This is the question Jesus asks of the two men who seemed to be following him. To this query, they answer in effect: "Uh, well, depends. Where are you staying?" (1:38).

Typical. Jesus asks us a question that cuts to the core of why we're here on this earth, what's it all about and what we're doing that makes a difference - and we're worried about accommodations!

It is a legitimate concern for travelers, and to the disciples watching from the sidelines, Jesus did seem to be a traveler. If you're planning a road trip with the family and the dog, you probably want to know where you're staying down the line. And if that trip involves Nashville, Tennessee, the first question you have to ask is: "Do we, or do we not, want to experience the Opryland Hotel?"

To call this place "a hotel" is somewhat of an understatement - kind of like calling St. Peter's Basilica in Rome "a church."
With 3,104 guest rooms, this is the largest combined hotel and convention center under...
Start your risk free trial to view the entire installment!
START YOUR RISK-FREE TRIAL
---