Lord of the Kings Matthew 1:18-25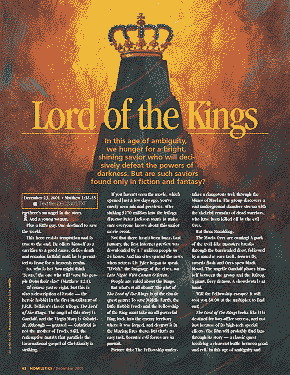 In this age of ambiguity, we hunger for a bright, shining savior who will decisively defeat the powers of darkness. But are such saviors found only in fiction and fantasy?

There's an angel in the story.

And a young woman.

Plus a little guy. One destined to save the world.

This hero resists temptation and is true to the end. He offers himself as a sacrifice to a good cause, defies death and remains faithful until he is permitted to leave for a heavenly realm.
So, who is he? You might think "Jesus," the one who will "save his people from their sins" (Matthew 1:21).

Of course you're right, but this is also a description of Frodo -the heroic hobbit in the first installment of J.R.R. Tolkien's classic trilogy, The Lord of the Rings. The angel of this story is Gandalf, and the Virgin Mary is Galadrial, although - granted - Galadrial is not the mother of Frodo. Still, the redemptive matrix that parallels the incarnational gospel of Christianity is striking.

If you haven't seen the movie, which opened just a few days ago, you've surely seen ads and previews. After sinking $270 million into the trilogy, director Peter Jackson wants to make sure everyone knows about...
Start your risk free trial to view the entire installment!
START YOUR RISK-FREE TRIAL
---