Pet Cemetery or Peaceable Kingdom? Isaiah 11:1-10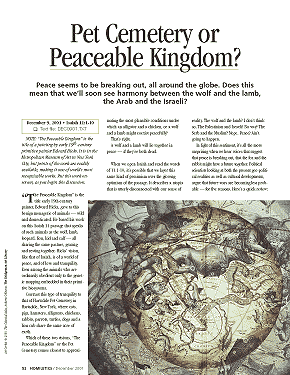 When this material was first written, it looked like peace was breaking out. Since 9/11, however, peace once again seems elusive. Why were we so optimistic? To what or to Whom can we look for a lasting and enduring peace?
NOTE: "The Peaceable Kingdom" is the title of a painting by early 19th-century primitive painter Edward Hicks. It is in the Metropolitan Museum of Art in New York City, but prints of the work are readily available, making it one of world's most recognizable works. Put this work on-screen, as you begin this discussion.

"The Peaceable Kingdom" is the title early 19th-century painter, Edward Hicks, gave to this benign menagerie of animals - wild and domesticated. He based his work on this Isaiah 11 passage that speaks of such animals as the wolf, lamb, leopard, lion, kid and calf - all sharing the same pasture, grazing and resting together. Hicks' vision, like that of Isaiah, is of a world of peace, and of love and tranquility. Even among the animals who are ordinarily obedient only to the genetic mapping embedded in their primitive biosystems.
Contrast this type of tranquility to that of Hartsdale Pet Cemetery in Hartsdale, New York, where cats, pigs, hamsters, alligators, chickens,...
Start your risk free trial to view the entire installment!
START YOUR RISK-FREE TRIAL
---