Dead Men's Cathedrals Psalm 95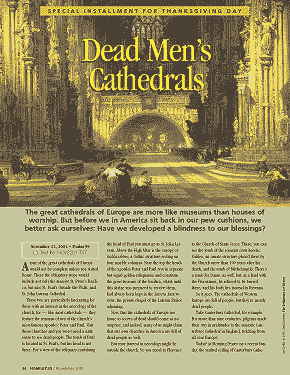 The great cathedrals of Europe are more like museums than houses of worship. But before we in America sit back in our pew cushions, we better ask ourselves: Have we developed a blindness to our blessings?

A tour of the great cathedrals of Europe would not be complete unless you visited Rome. There the obligatory stops would include not only the massive St. Peter's Basilica, but also St. Paul's Outside-the-Walls, and St. John Lateran Cathedral.
These two are particularly fascinating for those with an interest in the necrology of the church, for - like most cathedrals - they feature the remains of two of the church's most famous apostles: Peter and Paul. Visit these churches and you won't need a sixth sense to see dead people. The tomb of Paul is located in St. Paul's, but his head is not there. For a view of the reliquary containing the head of Paul you must go to St. John Lateran. Above the High Altar is the canopy or baldacchino, a Gothic structure resting on four marble columns. Near the top the heads of the apostles Peter and Paul rest in separate but equal golden reliquaries and constitute the great treasure of the basilica, which until this shrine was prepared to receive them, had...
Start your risk free trial to view the entire installment!
START YOUR RISK-FREE TRIAL
---