Prayer Chain Pain 1 Timothy 2:1-7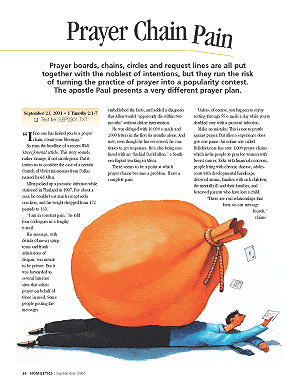 Prayer boards, chains, circles and request lines are all put together with the noblest of intentions, but they run the risk of turning the practice of prayer into a popularity contest. The apostle Paul presents a very different prayer plan.

"If no one has linked you to a prayer chain, count your blessings."
So runs the headline of a recent Wall Street Journal article. This story sounds rather strange, if not sacrilegious. But it invites us to consider the case of a certain Church of Christ missionary from Dallas named David Allen.
Allen picked up a parasitic infection while stationed in Thailand in 1997. For about a year, he couldn't eat much except soda crackers, and his weight dropped from 172 pounds to 139.
"I am in constant pain," he told four colleagues in a lengthy
e-mail.
His message, with details of messy symptoms and frank admissions of despair, was meant to be private. But it was forwarded to several Internet sites that solicit prayer on behalf of those in need. Some people posting the messages embellished the facts, and added a diagnosis that Allen would "apparently die within two months" without divine intervention.
He was deluged with 10,000 e-mails and 2000 letters in the first six months alone. And now,...
Start your risk free trial to view the entire installment!
START YOUR RISK-FREE TRIAL
---