A Flat Top Future Luke 9:28-36 (37-43)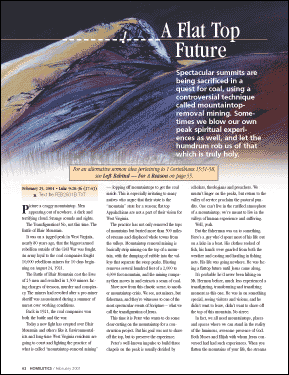 Spectacular summits are being sacrificed in a quest for coal, using a controversial technique called mountaintop-removal mining. Sometimes we blow our own peak spiritual experiences as well, and let the humdrum rob us of that which is truly holy.
Picture a craggy mountaintop. Men appearing out of nowhere. A dark and terrifying cloud. Strange sounds and sights.

The Transfiguration? No, not this time. The Battle of Blair Mountain.

It was on a jagged peak in West Virginia, nearly 80 years ago, that the biggest armed rebellion outside of the Civil War was fought. An army loyal to the coal companies fought 10,000 rebellious miners for 10 days beginning on August 24, 1921.

The Battle of Blair Mountain cost the lives of 25 men and resulted in 1,500 miners facing charges of treason, murder and conspiracy. The miners had revolted after a pro-miner sheriff was assassinated during a summer of unrest over working conditions.

Back in 1921, the coal companies won both the battle and the war.

Today a new fight has erupted over Blair Mountain and others like it. Environmentalists and long-time West Virginia residents are going to court and fighting the practice of what is called "mountaintop-removal mining" - lopping off mountaintops to get the...
Start your risk free trial to view the entire installment!
START YOUR RISK-FREE TRIAL
---