Empty Calories John 21:1-19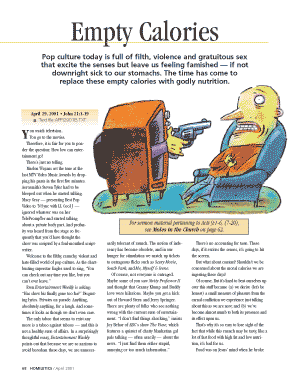 Pop culture today is full of filth, violence and gratuitous sex that excite the senses but leave us feeling famished - if not downright sick to our stomachs. The time has come to replace these empty calories with godly nutrition.
You watch television.

You go to the movies.

Therefore, it is fair for you to ponder the question: How low can entertainment go?

There's just no telling.

Marlon Wayans set the tone at the last MTV Video Music Awards by dropping his pants in the first five minutes. Aerosmith's Steven Tyler had to be bleeped out when he started talking. Macy Gray - presenting Best Pop Video to 'N Sync with LL Cool J - ignored whatever was on her TelePrompTer and started talking about a private body part. And profanity was heard from the stage so frequently that you'd have thought the show was scripted by a foul-mouthed script-writer.

Welcome to the filthy, raunchy, violent and hate-filled world of pop culture. As the chart-busting superstar Eagles used to sing, "You can check out any time you like, but you can't ever leave."
Even Entertainment Weekly is asking: "Has show biz finally gone too far?" Disgusting lyrics. Privates on parade. Anything, absolutely anything, for a laugh. And sometimes it looks as...
Start your risk free trial to view the entire installment!
START YOUR RISK-FREE TRIAL
---