The Pisa Makers Luke 13:31-35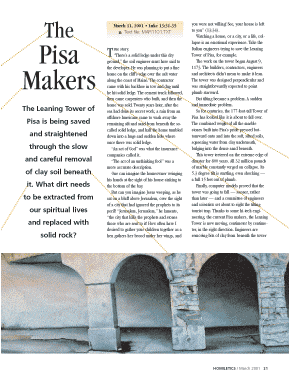 The Leaning Tower of Pisa is being saved and straightened through the slow and careful removal of clay soil beneath it. What dirt needs to be extracted from our spiritual lives and replaced with solid rock?
True story.

"There's a solid ledge under this dry ground," the soil engineer must have said to the developer. He was planning to put a fine home on the cliff's edge over the salt water along the coast of Maine. The contractor came with his backhoe in tow and dug until he hit solid ledge. The cement truck followed, then came carpenters who built, and then the home was sold. Twenty years later, after the sea had done its secret work, a rain from an offshore hurricane came to wash away the remaining silt and sand from beneath the so-called solid ledge, and half the home tumbled down into a huge and sudden hole where once there was solid ledge.

"An act of God" was what the insurance companies called it.

"The act of an unthinking fool" was a more accurate description.

One can imagine the homeowner wringing his hands at the sight of his house sinking to the bottom of the bay.

But can you imagine Jesus weeping, as he sat on a bluff above Jerusalem, over the sight of a city that had ignored the ...
Start your risk free trial to view the entire installment!
START YOUR RISK-FREE TRIAL
---