Bambi Must Die Psalm 8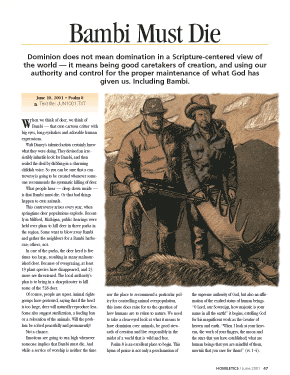 Dominion does not mean domination in a Scripture-centered view of the world - it means being good caretakers of creation, and using our authority and control for the proper maintenance of what God has given us. Including Bambi.

When we think of deer, we think of Bambi - that cute cartoon critter with big eyes, long eyelashes and adorable human expressions.


Walt Disney's talented artists certainly knew what they were doing. They devised an irresistibly infantile look for Bambi, and then sealed the deal by dubbing in a charming childish voice. So you can be sure that a controversy is going to be created whenever someone recommends the systematic killing of deer.


What people hear - deep down inside - is that Bambi must die. Or that bad things happen to cute animals.


This controversy arises every year, when springtime deer populations explode. Recently in Milford, Michigan, public hearings were held over plans to kill deer in three parks in the region. Some want to blow away Bambi and gather the neighbors for a Bambi barbecue; others, not.


In one of the parks, the deer herd is five times too large, resulting in many malnourished deer. Because of overgrazing, at least 19 plant species have disappeared, and 23 more...
Start your risk free trial to view the entire installment!
START YOUR RISK-FREE TRIAL
---