Concierge God John 14:8-17 (25-27)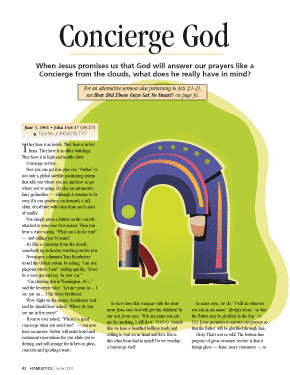 When Jesus promises us that God will answer our prayers like a Concierge from the clouds, what does he really have in mind?
They have it in hotels. They have it in law firms. They have it in office buildings. They have it in high-end health clubs.
Concierge service.


Now you can get it in your car. "OnStar" is not only a global satellite positioning system that tells you where you are and how to get where you're going. It's also an automotive fairy godmother - although it remains to be seen if it can produce, on demand, a tall, skim, decaf latte with extra foam and a shot of vanilla!
You simply press a button on the console attached to your rear-view mirror. Then you hear a voice saying, "What can I do for you?" - and calling you by name!


It's like a concierge from the clouds, somebody up in heaven watching out for you.


Newspaper columnist Tony Kornheiser tested the OnStar system by asking, "Can you pinpoint where I am?" adding quickly, "Don't be a wise guy and say, 'In your car.'"


"I'm showing you in Washington, D.C.," said the heavenly voice. "Let me zoom in ... I see you on ... 15th Street Northwest."


Wow....
Start your risk free trial to view the entire installment!
START YOUR RISK-FREE TRIAL
---