The Mary and Martha Think-Off Luke 10:38-42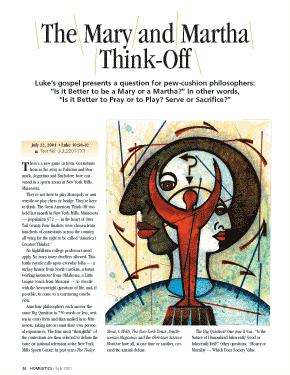 Luke's gospel presents a question for pew-cushion philosophers:
"Is it Better to be a Mary or a Martha?" In other words, "Is it Better to Pray or to Play? Serve or Sacrifice?"

There's a new game in town. Contestants from as far away as Pakistan and Denmark, Argentina and Zimbabwe have convened in a sports arena in New York Mills, Minnesota.

They're not here to play Monopoly or arm wrestle or play chess or bridge. They're here to think. The Great American Think-Off was held last month in New York Mills, Minnesota - population 972 - in the heart of Otter Tail County. Four finalists were chosen from hundreds of contestants across the country, all vying for the right to be called "America's Greatest Thinker."

No highfallutin college professors need apply. No ivory tower dwellers allowed. This battle royale calls upon everyday folks - a turkey farmer from North Carolina, a baton twirling instructor from Oklahoma, a Little League coach from Missouri - to wrestle with the heavyweight questions of life, and, if possible, to come to a convincing conclusion.

Armchair philosophers each answer the same Big Question in 750 words or less, written in essay form and than...
Start your risk free trial to view the entire installment!
START YOUR RISK-FREE TRIAL
---