Playing Touch Luke 5:1-11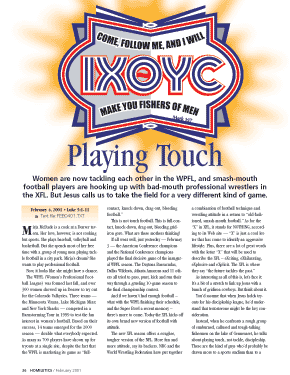 Women are now tackling each other in the WPFL, and smash-mouth football players are hooking up with bad-mouth professional wrestlers in the XFL. But Jesus calls us to take the field for a very different kind of game.


Mirja McDade is a cook at a Denver tavern. Her love, however, is not cooking but sports. She plays baseball, volleyball and basketball. But she spends most of her free time with a group of young men playing tackle football in a city park. Mirja's dream? She wants to play professional football.

Now, it looks like she might have a chance.

The WPFL (Women's Professional Football League) was formed last fall, and over 300 women showed up in Denver to try out for the Colorado Valkyries. Three teams - the Minnesota Vixens, Lake Michigan Minx and New York Sharks - competed in a Barnstorming Tour in 1999 to test the fan interest in women's football. Based on their success, 14 teams emerged for the 2000 season - double what everybody expected. As many as 700 players have shown up for tryouts at a single site, despite the fact that the WPFL is marketing its game as "full-contact, knock-down, drag-out, bleeding football."

This is not touch football. This is full-contact, knock-down, drag-out,...
Start your risk free trial to view the entire installment!
START YOUR RISK-FREE TRIAL
---