Grow Old Grace-fully Deuteronomy 34:1-12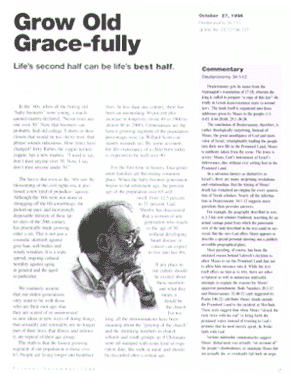 Life's second half can be life's best half.



In the '60s, when all the boring old "baby boomers" were young, a much-quoted mantra declared, "Never trust anyone over 30." Now that boomers can probably find old college T-shirts in their closets that would be too old to trust, that phrase sounds ridiculous. How times have changed! Jerry Rubin, the yippie-turned-yuppie, has a new mantra. "I used to say, don't trust anyone over 30. Now, I say, don't trust anyone under 50."

The fact is that even as the '60s saw the blossoming of the civil rights era, it also honed a new kind of prejudice-- ageism. Although the '60s were not alone in shrugging off the 60-somethings, the picked-up pace and increasingly disposable lifestyle of these latter days of the 20th century has practically made growing older a sin. This is not just a cosmetic skirmish against gray hair, soft bodies and windy wrinkles. It is a widespread, ongoing cultural hostility against aging in general and the aged in particular.

We routinely assume that our oldest...
Start your risk free trial to view the entire installment!
START YOUR RISK-FREE TRIAL
---