The Difficult Child Luke 18:1-8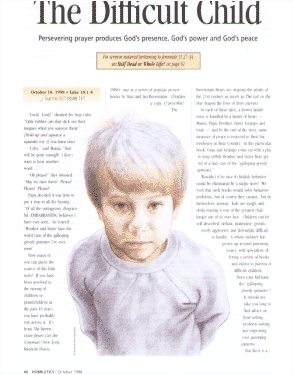 Persevering prayer produces God's presence, God's power and God's peace


"Look! Look!" shouted the bear cubs. "Little rubber cats that stick out their tongues when you squeeze them!" [Hold up and squeeze a squeaky toy, if you have one].

"Cubs," said Mama, "that will be quite enough! I don't want to hear another
word ...."

"Oh please!" they shouted. "May we have them? Please! Please! Please!"

Papa decided it was time to put a stop to all the fussing .... "Of all the outrageous, disgraceful, EMBARRASSING behavior I have ever seen," he roared .... "Brother and Sister have the worst case of the galloping greedy gimmies I've ever seen!"

How many of you can guess the source of this little story? If you have been involved in the raising of children or grandchildren in the past 10 years, you have probably run across it. It's from The Berenstain Bears Get the Gimmies (New York: Random House, 1988), one in a series of popular picture books by Stan and Jan Berenstain. [Display a copy, if possible]. The Berenstain Bears are shaping the adults of the 21st century ...
Start your risk free trial to view the entire installment!
START YOUR RISK-FREE TRIAL
---