When Too Much Can Be Too Little Mark 10:17-31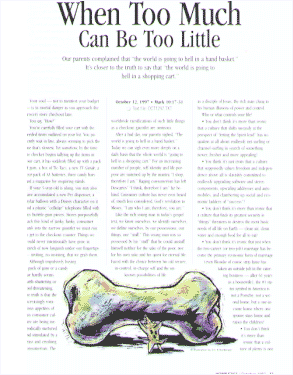 Our parents complained that "the world is going to hell in a hand basket."
It's closer to the truth to say that "the world is going to hell in a shopping cart."

Your soul -- not to mention your budget -- is in mortal danger as you approach the grocery store checkout lane.

You say, "How?"

You've carefully filled your cart with the needed items outlined on your list. You patiently wait in line, always seeming to pick the one that's slowest. Yet somehow, by the time the checker begins tallying up the items in your cart, it has suddenly filled up with a pack of gum, a box of Tic-Tacs, a new TV Guide, a four-pack of AA batteries, three candy bars and a magazine for enquiring minds.

If your 5-year-old is along, you may also have accumulated a new Pez dispenser, a mylar balloon with a Disney character on it and a plastic "cellular" telephone filled with tiny bubble-gum pieces. Stores purposefully pack this kind of junky, funky, consumer gunk into the narrow gauntlet we must run to get to the checkout counter. Things we would never intentionally have gone in search of now languish under our fingertips -- inviting, no insisting, that we grab...
Start your risk free trial to view the entire installment!
START YOUR RISK-FREE TRIAL
---