Eat Your Own Dog Food John 18:33-37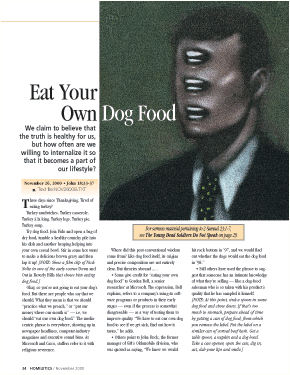 We claim to believe that the truth is healthy for us, but how often are we willing to internalize it so that it becomes a part of our lifestyle?
Three days since Thanksgiving.

Tired of eating turkey?

Turkey sandwiches. Turkey casserole. Turkey 'a la king. Turkey legs. Turkey pie. Turkey soup.

Try dog food. Join Fido and open a bag of dry food, tumble a healthy crunchy pile into his dish and another heaping helping into your own cereal bowl. Stir in some hot water to make a delicious brown gravy and then lap it up! [NOTE: Show a film clip of Nick Nolte in one of the early scenes Down and Out in Beverly Hills that shows him eating dog food.]

Okay, so you're not going to eat your dog's food. But there are people who say that we should. What they mean is that we should "practice what we preach," or "put our money where our mouth is" -- i.e, we should "eat our own dog food." The media-centric phrase is everywhere, showing up in newspaper headlines, computer-industry magazines and executive sound bites. At Microsoft and Cisco, staffers refer to it with religious reference.

Where did this post-conventional wisdom come...
Start your risk free trial to view the entire installment!
START YOUR RISK-FREE TRIAL
---