Brave Dames and Wimpettes Judges 4: 1-7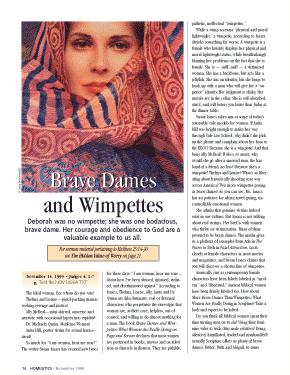 Deborah was no wimpette; she was one bodacious, brave dame. Her courage and obedience to God are a valuable example to us all.


The ideal woman. For whom do you vote?

Thelma and Louise--pistol-packing mamas seeking revenge and justice?

Ally McBeal--mini-skirted, anorexic and neurotic with occasional lapses into vapidity?

Dr. Michaela Quinn, Medicine Woman?

Anita Hill, poster victim for sexual harassment?

So much for "I am woman, hear me roar!" The writer Susan Isaacs has created new lyrics for these days: "I am woman, hear me roar ... about how I've been abused, misused, violated, and discriminated against." According to Isaacs, Thelma, Louise, Ally, Anita and Dr. Quinn are fake feminists, real or fictional characters who perpetuate the stereotype that women are, at their core, helpless, out of control, and willing to do almost anything for a man. The book Brave Dames and Wimpettes: What Women Are Really Doing on Page and Screen declares that most women are portrayed in books, movies and on television as damsels in distress. They are pitiable, pathetic, ineffectual "wimpettes."

While a wimp screams...
Start your risk free trial to view the entire installment!
START YOUR RISK-FREE TRIAL
---