God's Power works best in the graveyard 2 Thessalonians 1:1-4, 11-12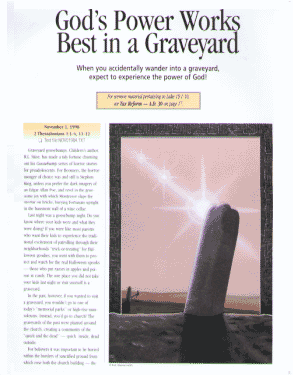 When you accidentally wander into a graveyard, expect to experience the power of God!
Graveyard goosebumps. Children's author, R.L. Stine, has made a tidy fortune churning out his Goosebump series of horror stories for preadolescents. For Boomers, the horror-monger of choice was and still is Stephen King, unless you prefer the dark imagery of an Edgar Allan Poe, and revel in the gruesome joy with which Montresor slaps the mortar on bricks, burying Fortunato upright in the basement wall of a wine cellar.

Last night was a goosebump night. Do you know where your kids were and what they were doing? If you were like most parents who want their kids to experience the traditional excitement of patrolling through their neighborhoods "trick-or-treating" for Halloween goodies, you went with them to protect and watch for the real Halloween spooks - those who put razors in apples and poison in candy. The one place you did not take your kids last night or visit yourself is a graveyard.

In the past, however, if you wanted to visit a graveyard, you wouldn't go to one of today's...
Start your risk free trial to view the entire installment!
START YOUR RISK-FREE TRIAL
---