Twisted Truth 1 John 4:7-21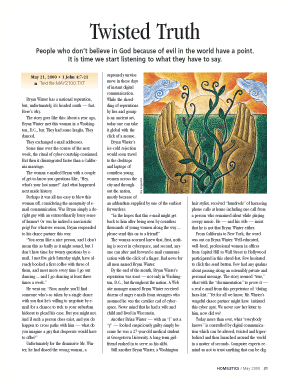 People who don't believe in God because of evil in the world have a point. It is time we start listening to what they have to say.
Bryan Winter has a national reputation, but, unfortunately, it's headed south - fast. Here's why.

The story goes like this: About a year ago, Bryan Winter met this woman in a Washington, D.C., bar. They had some laughs. They danced.

They exchanged e-mail addresses.

Some time over the course of the next week, the ritual of cyber-courtship continued. But then it disintegrated faster than a California marriage.

The woman e-mailed Bryan with a couple of get-to-know-you questions like, "Hey, what's your last name?" And what happened next made history.

Perhaps it was all-too-easy to blow this woman off, considering the anonymity of e-mail communication. Was Bryan simply a do-right guy with an extraordinarily lousy sense of humor? Or was he indeed a narcissistic prig? For whatever reason, Bryan responded to his dance partner this way:

"You seem like a nice person, and I don't mean this as badly as it might sound, but I don't have time for twenty questions by e-mail. I met five girls...
Start your risk free trial to view the entire installment!
START YOUR RISK-FREE TRIAL
---