Latitudes & Attitudes 1 Peter 4:12-14; 5:6-11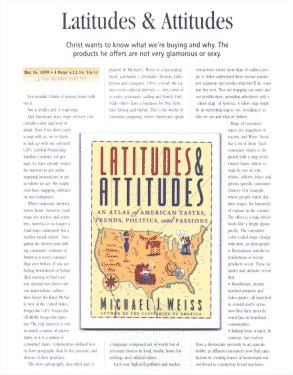 Christ wants to know what we''re buying and why. The products he offers are not very glamorous or sexy.
You wouldn't think of leaving home without it.

Not a credit card. A road map.

And Americans have maps of every conceivable color and level of detail. Even if we don't carry a map with us, we're likely to link up with our onboard G.P.S. (Global Positioning Satellite) systems. Or perhaps we have already visited the Internet to get online mapping instructions to get us where we are. We might even have mapping software on our computers.

When corporate America leaves home, however, road maps are useless and pointless. America is no longer a road-map community but a market-based culture. Navigating the diverse and shifting consumer contours of America is more complex than ever before. If you are feeling bewildered or befuddled wanting to find your way around our choice-driven materialistic culture, then forget the Rand McNally view of the United States. Forget the G.P.S. Forget the CD-ROM. Forget the Internet. The real America is not so much a nation of citizen states as it is a nation of ...
Start your risk free trial to view the entire installment!
START YOUR RISK-FREE TRIAL
---