A World of White Slippers, Purple Dresses and Pink Sneakers Luke 15:1-3, 11b-32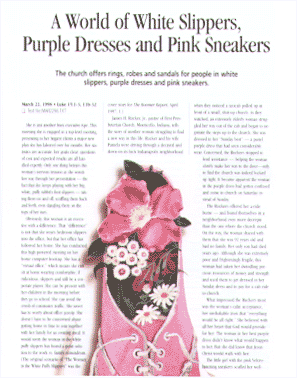 The church offers rings, robes and sandals for people in white slippers, purple dresses and pink sneakers.

She is just another busy executive type. This morning she is engaged in a top-level meeting, presenting to her biggest clients a major new plan she has labored over for months. Her statistics are accurate, her goals clear; questions of cost and expected results are all handled expertly. Only one thing betrays this woman's nervous tension as she wends her way through her presentation -- the fact that she keeps playing with her big, white, puffy rabbit's-foot slippers -- taking them on and off, scuffling them back and forth, even dangling them on the tops of her toes.

Obviously, this woman is an executive with a difference. That "difference" is not that she wears bedroom slippers into the office, but that her office has followed her home. She has conducted this high-powered meeting on her home computer hookup. She has a "virtual office," which means she can sit at home wearing comfortable, if ridiculous, slippers and still be a corporate player. She can be present with her children in...
Start your risk free trial to view the entire installment!
START YOUR RISK-FREE TRIAL
---