Saving the Beetle Cat Ezekiel 37:1-14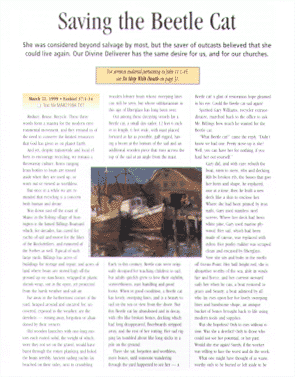 She was considered beyond salvage by most, but the saver of outcasts believed that she could live again. Our Divine Deliverer has the same desire for us, and for our churches.
Reduce. Reuse. Recycle. These three words form a mantra for the modern environmental movement, and they remind us of the need to conserve the limited resources that God has given us on planet Earth.

And yet, despite nationwide and local efforts to encourage recycling, we remain a throwaway culture. Items ranging from bottles to boats are tossed aside when they are used up, or worn out or viewed as worthless.

But once in a while we are reminded that recycling is a concern both human and divine.

Way down east off the coast of Maine in the fishing village of Stonington is the famed Billings Boatyard which, for decades, has cared for yachts of sail and motor for the likes of the Rockefellers, and rumored of the Forbes as well. Typical of such large yards, Billings has acres of buildings for storage and repair, and acres of land where boats are stored high off the ground up on stanchions, wrapped in plastic shrink-wrap, out in the open, yet protected from the harsh weather and salt...
Start your risk free trial to view the entire installment!
START YOUR RISK-FREE TRIAL
---