Death in Freeze-Frame 1 Peter 3:18-22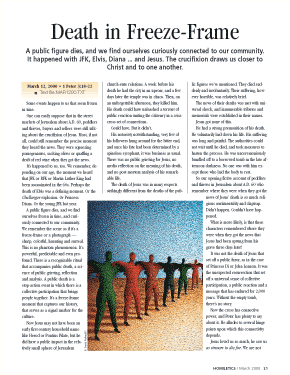 A public figure dies, and we find ourselves curiously connected to our community. It happened with JFK, Elvis, Diana ... and Jesus. The crucifixion draws us closer to Christ and to one another.

Some events happen to us that seem frozen in time.

One can easily suppose that in the street markets of Jerusalem about A.D. 60, peddlers and thieves, buyers and sellers were still talking about the crucifixion of Jesus. Most, if not all, could still remember the precise moment they heard the news. They were squeezing pomegranates, sacking olives or quaffing a draft of red wine when they got the news.

It's happened to us, too. We remember, depending on our age, the moment we heard that JFK or RFK or Martin Luther King had been assassinated in the 60s. Perhaps the death of Elvis was a defining moment. Or the Challenger explosion. Or Princess Diana. Or the young JFK last year.

A public figure dies, and we find ourselves frozen in time, and curiously connected to our community. We remember the scene as if it's a freeze-frame or a photograph - sharp, colorful, haunting and surreal. This is no phantom phenomenon. It's powerful, predictable and even profound. There is a recognizable ...
Start your risk free trial to view the entire installment!
START YOUR RISK-FREE TRIAL
---