Good to Go 2 Kings 2:1-2, 6-14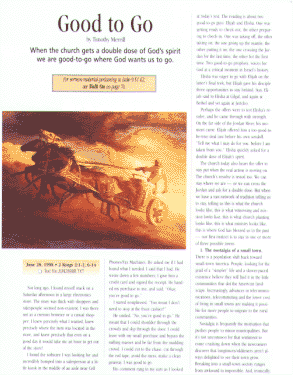 When the church gets a double dose of God's spirit
we are good-to-go where God wants us to go.


Not long ago, I found myself stuck on a Saturday afternoon in a large electronics store. The store was thick with shoppers and salespeople seemed non-existent. I was there not as a curious browser or a casual shopper; I knew precisely what I wanted, knew precisely where the item was located in the store, and knew precisely that even on a good day it would take me an hour to get out of the store!

I found the software I was looking for and incredibly bumped into a salesperson at a little kiosk in the middle of an aisle near Cell Phones/Fax Machines. He asked me if I had found what I needed. I said that I had. He wrote down a few numbers; I gave him a credit card and signed the receipt. He handed my purchase to me, and said, "Okay, you're good to go."

I stared nonplused. "You mean I don't need to stop at the front cashier?"

He smiled. "No, you're good to go." He meant that I could shoulder through the crowds and slip through the door. I could leave with my small purchase and bypass...
Start your risk free trial to view the entire installment!
START YOUR RISK-FREE TRIAL
---