High Rollers Mark 4:35-41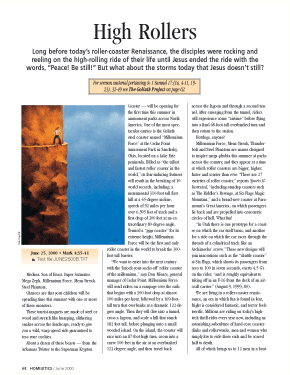 Long before today's roller-coaster Renaissance, the disciples were rocking and reeling on the high-rolling ride of their life until Jesus ended the ride with the words, "Peace! Be still!" But what about the storms today that Jesus doesn't still?

Medusa. Son of Beast. Super Saturator. Mega Zeph. Millennium Force. Mean Streak. Steel Phantom.

Chances are that your children will be spending time this summer with one or more of these monsters.

These tourist-magnets are made of steel or wood and stretch like humping, slithering snakes across the landscape, ready to give you a wild, warp-speed ride guaranteed to toss your cookies.

About a dozen of these beasts - from the Arkansas Twister to the Superman Krypton Coaster - will be opening for the first time this summer in amusement parks across North America. One of the most spectacular entries is the Goliath steel coaster named "Millennium Force" at the Cedar Point Amusement Park in Sandusky, Ohio, located on a Lake Erie peninsula. Billed as "the tallest and fastest roller coaster in the world," its fear-inducing features will result in the breaking of 10 world records, including: a monumental 310-foot-tall first hill at a 45-degree incline, speeds of 92 miles per hour over 6,595...
Start your risk free trial to view the entire installment!
START YOUR RISK-FREE TRIAL
---